Set
May 21, 2012 21:15:00 GMT -5
Post by Set on May 21, 2012 21:15:00 GMT -5
Set !
I curse to hell the magistrate who granted this unholy fate,
But I know, I know I asked for this myself -
I'm bound by law to hell, and it's sick, sick, sick !
Humans and their needs, living in a fairytale that's tearing at the seams;;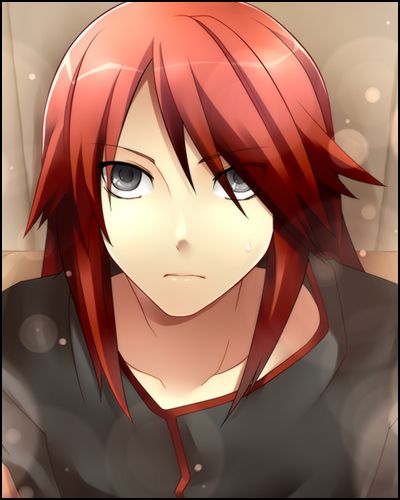 THE DAY WE MET WAS LIKE A HIT AND RUN
and i still taste it on my tongue
name: Set
nickname(s): Seth, Setekh, Sut, Sutekh
age: Unknown; in human form, appears around sixteen.
sexuality: Pansexual
job: Deity of sand, storms, and chaos
race: God

THE SKY WAS BURNING UP LIKE FIREWORKS
you made me want you oh so bad it hurts
height: As a human, 5'5". Natural form can vary, but is generally around 7'4".
body type: As a human, Set's form is small, slender, and even vaguely feminine. His natural form is also slender, but nonetheless lined with lean muscle.
hair and eyes: His hair is long, straight, and a vivid red. His eyes are a distinct, shining silver, the feature that most sets him apart as a god - especially in the dark, where they turn yellow with a faint glow.
clothing style: Usually wears the standard wrap-around, linen skirt, with cuffs, leather bracelets, or other unremarkable jewelry, and sandals. His royal wear includes a headdress, gold adornments such as cuffs, armbands, and collar, other jewelry like earrings and rings, and sometimes a scaled armor chest piece. His jewelry frequently incorporates Carnelian, jasper, and other shades of red. He'll often wear a black, hooded cloak to help hide his hair when he's not in the mood to be noticed.
overall appearance: At 5'5" with a slim, vaguely feminine build, a pretty face, and long, red hair, Set is easily mistaken for a girl at first glance in human form. His vivid hair makes him an unusual sight, to say the least, but it's his silvery eyes that set him apart from human. His skin is pale, easily enough to give people the idea he's on the richer spectrum of society, or sometimes even a foreigner. His natural form is quite different, however. At around 7'4", he is a little below average height for a god. His build is still slender but more notably muscled. His head is that of a Typhonic Beast, coated in short, black fur, with long, thin, squared ears, a long, tapered muzzle, and glowing red eyes. He has a serpentine, forked tail, typically wrapped so as not to appear forked while in this form.

He can also take the form a [Typhonic Beast], which is a canine creature of any size he choses. It has a lithe body like a greyhound, with sleek, short, black fur, a long, tapered muzzle, long, thin, squared ears, and a long, prehensile, forked tail. Its teeth are all unforgivably sharp, and its tongue is black and pointed.
I USED TO BE LOVE DRUNK
but now i'm hungover
likes: Sand, storms, staying cool, himself, dogs, being right, darkness, foreigners, anything/anyone unusual, criminals
dislikes: Heat, clear/sunny days, bright light, Osiris, Horus, deep water, goody two-shoes, boredom, not getting his way, losing
secrets: Set is deeply envious of his brother Osiris, who is frequently seen as more attractive than him and tends to garner more worship and human appeal. He secretly fears humans turning against him, and also deep water, as he cannot swim. As any god might, he also fears being trapped in human form or having his powers taken away.
personality: Set is embittered and rather arrogant, to say the least. He looks down on mortals and, often, other deities. He seems to hold the belief he could do anything if he really put his mind to it. Though not heartless, he sometimes overlooks the value of life, and can take it from anybody without a second thought. This can make him appear cold and uncaring, when in reality he is more compassionate than he often succeeds in conveying.

He hates losing or being proven wrong, and so can be very stubborn and argumentative. He has a bit of a temper that he struggles to keep in check, and is easily annoyed. Set is very spiteful; he never forgets and is slow to forgive, but much quicker to take revenge for himself or others. When bored, he often takes to manipulating humans into tough situations or otherwise creating conflict. He takes great delight in all things new and interesting - particularly things that others find off-putting.
YOU DROVE ME CRAZY EVERY TIME WE TOUCHED
now i'm so broken that i can't get up
mother: Nut/Unknown/Goddess
father: Geb/Unknown/God
siblings: Nepthys, his twin sister. Another set of twins, his brother Osiris and sister Isis.
other family: His nephew, Horus.
[/font]
I'M CHECKING INTO REHAB
cause everything that we had didn't mean a thing to you
name/alias: Ree again~!
role-playing experience: Eight years
age: 20
anything else: derp

---
this was made by CHLOEOATS of caution 2.0. do not remove this tag, no matter what. lyrics are from love drunk by boys like girls.