Post by Darius on May 14, 2012 22:15:59 GMT -5
darius !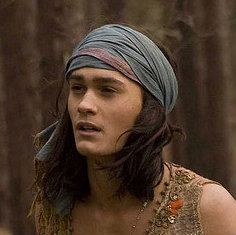 Make no mistake, we are not afraid
To bear the burden of repeating
What they're thinking anyway.
Let's raise the stakes
On the bet we made.
Let's decide to be the architects,
The masters of our fate.
DO YOU STILL BELIEVE IN ALL THE THINGS
THAT YOU STOOD BY BEFORE?
name: Darius
nickname(s): Just Darius. Son of Gamal if it's necessary.
age: twenty-two
sexuality: straight
job: noble
Race: human

ARE YOU OUT THERE ON THE FRONT LINES
or at home keeping score?
height: 5'6
body type: buff but not bulky. It's clear that he's strong, and he knows how to fight.
hair and eyes: black wig and dark eyes. I photoedited the photo because I have a serious issue with the photos being accurate.
clothing style: He has, of course, the typical Egyptian black wig. He dresses like a noble, in fine linen. He basically always wears a white shenti. He has a jeweled collar, and a few solid gold armbands that he always wears. His sandals are simple, but they happen to be made of woven gold too. He's rich, and dresses like it. However, if he's trying to hide in public, he'll wear a simple white shenti and no armbands, although the slight tan sometimes gives it away.
overall appearance: There's not much to say. He's handsome and confident. He carries himself like a nobleman, and has a steady, authoritative, graceful gait. He speaks with the assumption that he will be obeyed (unless it's to the royals).
DO YOU CARE TO BE THE LAYER
of the bricks that steal your fate
likes: Egypt, chariot rides, gardens, swimming, fighting, architecture, sailing, writing, reading, noblility
dislikes: threats to the good of Egypt. That's basically it. He tolerates about everything else.
secrets: He's against Nailah becoming pharaoh, but on the outside simply seems to fully support the queen, Aria. This makes him a spy. Secret number two is that he doesn't know much about Puer, so he's a little unsure about how fit Puer is for Pharaoh as well (although he believes that Nailah couldn't be better).
personality: He has a good heart, but he's entitled. He's a nobleman who was raised in riches and became enamored with the nobility and grandeur of Egypt. Along with this, though, he loves the people, even the poor. He wants them to thrive under the rule of the Egyptians, but fears that under the rule of Nailah, a young, rather soft girl, Egypt will be conquered and ruled by foreigners. He doesn't want this to happen. So Darius is working to stop Nailah from taking the throne, because he thinks that she is weak. He doesn't want to hurt anyone, but believes that sacrifices must be made if Egypt is to be safe.
OR WOULD YOU RATHER BE THE ARCHITECT
of what we might create
mother: Asenath/50/noblewoman
father: Gamal/60/nobleman, ex-general
siblings: Ahkenaten/35/nobleman
Layla/18/noblewoman
other family: He's distantly related to lots of other nobleman and generals
history: Dairus's father, Gamal, was a general in (insert time period here). He fought foreign attacks, mostly, did some conquering, sided with pharaohs instead of priests (middle kingdom, right?). But after his time serving, Gamal retired to attend to the family assets, including stables, architecture stuff, some fields and crops, basically anything that's necessary and then the things that aren't as well. He focused his efforts on these and soon the family was richer than they had been. Gamal didn't really fraternize with the pharaohs after that, having had enough of politics.

Darius's older brother, Ahkenaten, likes women, wine, and war. He's been gone for some time doing battles. He's an official, but not a general, and is stationed at sea. Darius's mother is soft-spoken but extremely intelligent and able to manipulate people. His sister is pretty rebellious, but against societal norms.

Darius grew up learning how to fight, ride, and do business. But he also learned politics and history. His mother told him about the lower classes of Egypt, and with his father's tales of Egyptian glory and his mother's tales of a strong, advanced people, Darius grew up proud of his nation.

This is why he decided to join his uncle in the Pharaoh's audience hall, watching and listening. He became loyal and close to the late pharaoh, and was very upset when he died. Darius doesn't disapprove of Aria's ruling; in fact, he likes her and they're probably friends as much as they can be, with their ages and statuses. But he can't see Nailah as the ruler, and he realizes that Puer is the heir. He believes that Egypt needs a strong male Pharaoh to appear strong to their foreign enemies, and worries that Nailah might encourage them to believe that now is the time to attack. In addition, he doesn't think Nailah knows much about war, and worries about the lives that might be lost under her rule.

However, he's kept all of this to himself. On the outside, Darius is a young nobleman who is first and foremost loyal to the ruler of Egypt (who is right now Aria, techically). He also takes care of some of his family's assets. But in secret, Darius has been trying to gain support for the ascension of Puer, if necessary, using patriotism and his huge wealth as main motivators. He is connected with the military, nobles, and priests by his mother. Of course, Darius has yet to meet Puer, and this meeting definitely depends on whether or not the people he has gathered will move.


DON'T YOU REMEMBER WHEN WE WERE YOUNG AND WE WANTED TO SET THE WORLD ON FIRE
cause I still am, and I still do
name/alias: Juliet/Jules
role-playing experience: coming back after a year of not doing it, but I used to for years
age: that's supposed to be an it apostrophe s But I'm 18.
anything else: I changed the lyrics because I couldn't see them fitting with my character... like at all. If you want me to change it I totally will.

---
this was made by CHLOEOATS of caution 2.0. do not remove this tag, no matter what. lyrics are from love drunk by boys like girls.
Read more:
deserted-e.proboards.com/index.cgi?board=regis&action=display&thread=10#ixzz1utxV0EY2