Post by Layla on May 24, 2012 1:19:25 GMT -5
layla !

It's true that I'm a silver shadow
And you are always on my mind
Your secret's safe, and no one has to know
I'm your getaway, and a little bit more than you can take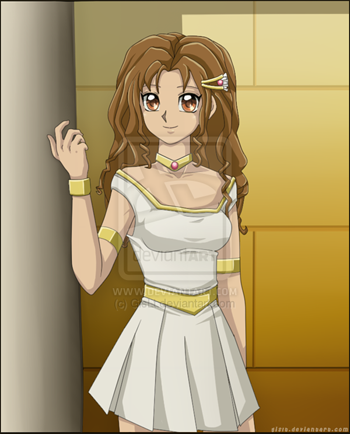 THE DAY WE MET WAS LIKE A HIT AND RUN
and i still taste it on my tongue
name: Layla
nickname(s): when she's out in the common world, Masika.
age: eighteen
sexuality: straight
job: noble
Race: Human

THE SKY WAS BURNING UP LIKE FIREWORKS
you made me want you oh so bad it hurts
height: feet and inches
body type: lean, good figure
hair and eyes: her natural hair color is brown, and the brown is lighter than most Egyptians'. Her eyes are also brown.
clothing style: Here's the interesting part. When she is herself, appearing as Layla, she is dressed in pricey typical Egyptian noble garb. However, she does not wear a wig. Think the picture above, but slightly more modest. This is sort of scandalous for everyone, because it's so odd, but she doesn't wear a wig for two reasons: one, she wants to rebel and stand out; two, it's easier for her to disguise herself as Masika.

Now Masika is what Layla calls herself when she's out in the common places of Egypt. It's then that she dons the typical black wig, so she'll blend in. She's bought some clothes that make her look like a commoner too. This would be like the picture above, but without the expensive armbands and with cheaper clothes. She's a little ridiculous.

overall appearance: Basically as described above.
I USED TO BE LOVE DRUNK
but now i'm hungover
likes: rebellion, bread, common people, breaking the law, stories, her mother, running, dancing, reading, honey, animals
dislikes: restrictions, her brother Ahkenaten, bulky men, swimming, birds
secrets: only Darius and her mother know that she sneaks out into the city and dresses up as a commoner. Also, she likes to steal things. For fun. And then put the money back if the people need it.
personality: This girl is a rebel, and she doesn't make much sense. However, she doesn't make sense because she doesn't want to. Layla is easily excited, and loves adventure. She likes the thrill of danger and of doing things that are against the rules. However, she doesn't like hurting people, and she has a good heart. Her ideas of right and wrong are a little, well, off at times, but she means well. She doesn't have much of a sense of responsibility, because she grew up privileged, and as a woman, never had to take on the familial responsibilities.
YOU DROVE ME CRAZY EVERY TIME WE TOUCHED
now i'm so broken that i can't get up
mother: Asenath/50/noblewoman
father: Gamal/60/nobleman, ex-general
siblings: Ahkenaten/35/nobleman
Darius/22/nobleman
other family: She's distantly related to lots of other nobleman, generals, and priests.
history: From her brother Darius's profile: Dairus's father, Gamal, was a general in (insert time period here). He fought foreign attacks, mostly, did some conquering, sided with pharaohs instead of priests (middle kingdom, right?). But after his time serving, Gamal retired to attend to the family assets, including stables, architecture stuff, some fields and crops, basically anything that's necessary and then the things that aren't as well. He focused his efforts on these and soon the family was richer than they had been. Gamal didn't really fraternize with the pharaohs after that, having had enough of politics.

Because Layla is a female, her mother was her main inspiration. Her mother spends a lot of time in the temples, and spent a lot of time there when she was growing up. Because of that, her mother developed a love for the common people. Her stories about them fueled Layla's sense of adventure during her childhood, and Layla was left wanting more excitement in her life than the luxurious life of a noble. So when she was little she began sneaking out into the city and dressing up as a commoner. Over time, she got used to the streets and can now act like one of them. Eventually, her brother Darius found out, and since their mother is in charge of the women in the household, he told her. However, they both let her continue, because as the youngest and a woman, she isn't really necessary for anything in the family and they want her to be happy.

She likes her brother Darius's heart, although she doesn't understand how he can manage all the politics. She deeply dislikes her older brother, though. Ahkenaten likes being drunk and used to be very rough with her. He never was kind to her like Darius, so she's happy that he's gone.
I'M CHECKING INTO REHAB
cause everything that we had didn't mean a thing to you
name/alias: Juliet
role-playing experience: long
age: 18
anything else: nope

---
this was made by CHLOEOATS of caution 2.0. do not remove this tag, no matter what. lyrics are from love drunk by boys like girls.