Post by Amonsef Mahiriah on May 19, 2012 2:01:47 GMT -5
Amonsef Mahiriah !
It's holding me, morphing me
and forcing me to strive
to be endlessly cold within,
and dreaming I'm alive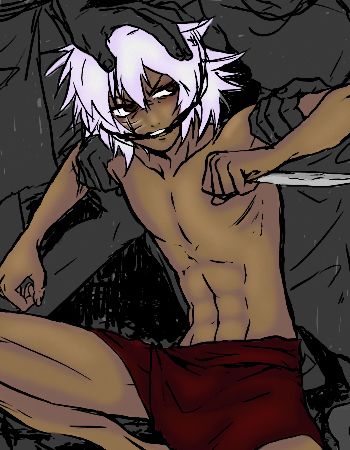 THE DAY WE MET WAS LIKE A HIT AND RUN
and i still taste it on my tongue
name: Amonsef Mahiriah
nickname(s): Amon
age: Nineteen
sexuality: Heterosexual
job: Marauder
Race: Human

THE SKY WAS BURNING UP LIKE FIREWORKS
you made me want you oh so bad it hurts
height: 5'9"
body type: Slender and lean
hair and eyes: Choppy, almost shoulder-length white hair. Black-brown eyes frequently ridden with dark circles.
clothing style: Nothing fancy, generally whatever he can scrounge. He tries to wear darker shades, often dark red or brown. A standard linen skirt is a constant; he rarely ever wears a shirt, but sometimes wears a brown hooded cloak. He'll wear sandals only as long as they don't fall apart, so he doesn't always have shoes. He'll occasionally wear jewelry if he can steal some.
overall appearance: Though his build is not exactly intimidating, Amonsef can certainly hold his own in a fight, his form lined with muscle to lend him a formidable blend of speed and strength. His skin is tan enough to reveal his lower class, though not as dark as it could be considering his largely nocturnal lifestyle - which is also attributed to the deep rings of deoxygenated blood about his pitch dark eyes. His features could be called handsome, his jawline lean and tantalizing, his face marred only by a long, notable scar crawling down through his right eye onto his cheek. His pure white hair is frequently seen as a bad omen - a significant factor in how he's turned out.
I USED TO BE LOVE DRUNK
but now i'm hungover
likes: The night, gold/jewels, blades, getting his way, dogs, fighting, food, offending people, scaring people, destruction
dislikes: Himself, most people, the upperclass, cats, fire, being unarmed, sunshine, his family, crowds, being dependent on anyone, the gods
secrets: He was physically and verbally abused as a child, which led to his running away and taking to thievery to survive. He has a phobia of fire. He hates cats, but is rather afraid of them too.
personality: Brash, selfish, cold, and impatient, Amonsef is all kinds the arrogant delinquent one would expect of a marauder. He does not hesitate to lie, cheat, steal, and especially threaten to get his way. Though cunning is not his strong point, he is intelligent enough to exercise a good amount of caution, make fair deals with allies, and slowly but surely tilt everything in a scenario to his advantage. However, his temper often gets the best of him, leading to more reckless decisions that may not always be the wisest. Amonsef in many ways seems heartless, but appears to have fleeting moments of compassion from time to time.

He is slow to warm up to people, to say the least. He is distrustful and bitter - especially of those on the wealthier end of the social spectrum. Not that he holds any fondness for the poor, either; one way or another, he always works out reasons not to trust people. But Amonsef hates himself about as much as he hates everyone else. Despite his apparent arrogance, he has poor self-esteem, and can hardly stand to look at his own reflection. He sees himself as a loathsome pest to society... but is not completely opposed to the idea, either.
YOU DROVE ME CRAZY EVERY TIME WE TOUCHED
now i'm so broken that i can't get up
mother: Neith/44/Commoner
father: Kekhaem/48/Commoner
siblings: Ekhosef/15
other family: N/A
history: Amonsef was raised in very lower class village. Trade was poor; whatever food and belongings the community had they often had to make for themselves, though a majority of the villagers were thieves or some such unsavory occupation. Amonsef was born with white hair, which was seen as bad omen not only by his family but by the whole village. Growing up, his father beat him, his mother feared him, and his neighbors scorned him. His family was largely shunned by their village because of him, which led to his father's hatred of him. His younger brother, however, was born with normal dark hair, and received all the normal family affection, though he was still looked down on by the village as part of Amonsef's family. Ekhosef is perhaps the only person who doesn't hate Amonsef; he always pitied his elder brother… which only led to Amonsef hating him all the more, already bitterly envious of Ekhosef's earning their parents' love.

When he was 11, Amonsef ran away, taking to the streets of the city and stealing to survive. He led a mostly solitary and nocturnal life, not trusting anyone enough to make many allies. On the contrary, his selfish and icy nature created many enemies for him, and his distinctive hair has built for him a reputation not only among thieves but as far as the palace - he is a wanted criminal. Because as his "career" advanced, he began to not only steal to survive, but to steal from merchants and even occasionally royals' tombs.
I'M CHECKING INTO REHAB
cause everything that we had didn't mean a thing to you
name/alias: Ree
role-playing experience: Eight years
age: 20
anything else: Needless to say, I love ancient Egypt - its mythology especially. c: I'm very friendly and honest~ My other loves include raves, video games, reading, and drawing.

---
this was made by CHLOEOATS of caution 2.0. do not remove this tag, no matter what. lyrics are from love drunk by boys like girls.